Mr Ramesh Santhanam, a mechanical engineer and a post-graduate in industrial management from the Indian Institute of Science, Bangalore has over 16 years of experience in the IT industry. He says, "Our core competency comprises of system design and development of web-enabled, multi-tier client/server and embedded applications using object oriented methodologies in the above focus areas. We have successfully delivered projects from our development centre in Bangalore." Fusion has offices in USA, Canada and Switzerland to provide better support to clients.

The company's core strength is in the areas of avionics. It first developed a mission computer for Light Combat Aircraft (LCA). Mission computer is an 80386 based embedded system controlling all the equipment in LCA. The mission computer software consists of initialisation module, operational flight programme and data bus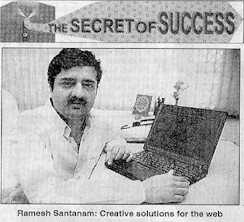 management module. Its other prestigious project was developing a multi function keyboard (MFK), which is a part of the avionics system in the LCA and provides man-machine interface for the pilot to view and modify flight related parameters.
Mr Santhanam says that Fusion has been delivering internet-related development services for over 3 years now. "In the recent past, internet related work has become the single largest common factor of our projects. In just over a year's span, we have delivered over 7 projects with various specialised requirements in the internet market space alone," he said.

Fusion delivered products and services to a variety of organisations that had internet needs like financial services, portfolio management, advertising, search engines, language translation, security/protocol implementation and registry services. Its clients are spread in US, Canada, Germany and Switzerland. The company has expertise in software engineering, project management and proven offshore development processes.

Mr Santhanam says, "Market needs are very high in internet sector. We do not want to develop some internet or e-commerce products and wait for customers to come and buy it. Our focus is on providing right software solutions for e-commerce."

"As so many people want to do business on the web, almost overnight. And the supply of good and specialised solution providers is really low. And thats where Fusion would position itself. With our offshore delivery model, we can be very competitive on huge projects," he says.

The idea, he said, is to 100 percent focus on web solutions starting from creating registry services, internet security protocol implementations and solutions, developing and maintaining web based multi-tier applications, e-commerce, portal creations and maintenance, etc. The marketing message for the year would be "creative solutions for the web," he adds.

Having established itself as the software solution providing company, Fusion Software is now planning to tap the huge e-commerce market. Till now, the company's focus had been low and through associated companies. Now, it plans to focus on domestic internet market as well by expanding its team of professionals from the present 120 to about 250 in the next three years. The target is to reach Rs.100 crore turnover from present level of about Rs.6 crore.

He said the company is also planning to take loans from Exim Bank for funding its future expansion plans. The marketing plan is to participate in more tradeshows. It is already working on a marketing network approach - where in it has a network of associates, consultants and companies to bring in its business, Mr Santhanam adds.

While the IT sector is looking forward to the new millennium, which is expected to open up enormous opportunities for the software solution providers like Fusion e-commerce and internet promise to be big business.